Klipsch Klipschorn AK6
Save

0

%
Save %
Original price
$16,498.00
-
Original price
$16,498.00
Call 410-882-4360 to Order!
The iconic Klipschorn is the original, three-way, fully horn-loaded loudspeaker that laid the foundation for the Klipsch brand. In its latest rendition, this historic speaker boasts an all-new neodymium tweeter, premium wire management system, and fully-enclosed design for flexible placement
The speaker that started it all
There are few brands more beloved by Just Audio customers than Klipsch. In part, that's because the iconic speaker company's  passion for excellence still shines through in each of their creations. Instead of resting on decades of industry prominence — or falling back on tried-and-true designs — Klipsch works tirelessly to reimagine even their most beloved speakers. Nothing reflects that innovative spirit more than the Klipschorn AK6.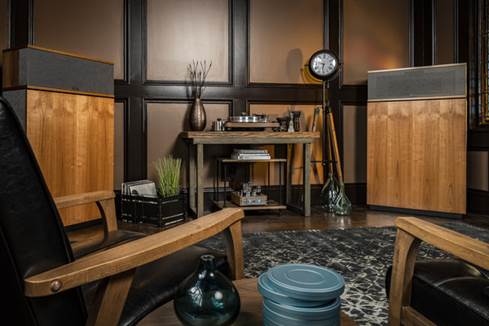 For the first time ever, Klipschorns don't need to sit snug in a corner — a game changer for rooms like this one.
Seven decades in the making
The original Klipschorn burst onto the hi-fi scene way back in the 1940s. To the delight of music lovers worldwide, it's been in continuous production ever since.
The latest iteration of the Klipschorn retains the charm and gravitas of its predecessors. But for the first time ever, this giant, beautiful speaker doesn't need to be positioned tightly in a corner.
That's huge, since for the last seven decades if you wanted a pair of "K-horns" in your listening room their once open-sided speaker cabinets limited your placement options.
Now, you're able to pull your Klipschorns away from the wall. This lets you angle them inward to create a listening "sweet spot" exactly where you want it in your room.
A redesigned driver complement
Company founder Paul W. Klipsch built the original Klipschorn to re-create the dynamics and excitement of a live orchestra in his living room. The AK6's trio of ultra-efficient drivers deliver the same high-energy listening experience today.
This speaker combines a 1" horn-loaded tweeter with a 2" horn-loaded midrange and a redesigned, enclosed 15" folded-horn woofer to deliver the full range of power and emotion behind your favorite records, CDs, and concert videos.
Each speaker consists of two separate cabinets — one for the woofer, the other for the midrange and tweeter — that are secured together during installation.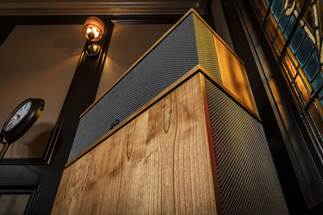 Classic Klipsch design
The Klipschorn's horn-loaded tweeter and midrange compression drivers give it exceptional sensitivity, low distortion, flat frequency response and broad, well-controlled dispersion. This translates to unequaled power, detail, and dynamics — the hallmarks of the classic Klipsch sound.
The AK6's high sensitivity also makes it a great choice for low- and medium-powered tube amps. Plus, dual speaker inputs allow bi-wiring or bi-amping for even better performance.
A hand-built beauty
The Klipschorn AK6 available in several attractive book-matched wood veneer finishes which provide a "mirror" image of each other. That's because each pair is sourced from the same piece of timber. The speakers are precisely arranged to provide an aesthetically pleasing mirror image at the splice.
Klipsch makes each Klipschorn one at a time by hand in Hope, Arkansas. 
A friendly heads-up
The AK6 is absolutely enormous. At nearly 4-1/2 feet tall, and weighing in at 220 pounds each, I highly recommend having a couple of friends on site to help you unbox and position your new speakers.
Product highlights:
matched pair of floor-standing speakers
handmade in Hope, Arkansas
three-way design with horn-loaded enclosures
separate upper and lower cabinets
frequency response: 33-20,000 Hz (±4dB)
power handling: 100 watts max continuous (400W peak)
sensitivity: 105 dB (1 watt/1 meter)
nominal impedance: 8 ohms
1" Polyimide diaphragm compression tweeter with 90° x 40° Tractrix® horn
2" phenolic-diaphragm compression midrange with exponential horn
15" fiber-composite woofer with a trihedral exponential folded horn
two sets of binding posts allow bi-amp or bi-wire capability
book-matched real wood veneer finish

veneer leaves for the left and right speakers are crafted from the same piece of timber
they're precisely arranged to provide an aesthetically pleasing "mirror" image at the splice

31-1/4"W x 53"H x 28-1/4"D (each)
weight: 220 lbs. (each)
*Price is for single speaker